Sleeping between Giants:
Life, If You Could Call It That, With A Terrier
Book I: Budleigh, the Early Year
Available in Softcover and EBook
Meet the Giants and Who's Sleeping Between Them
Humorist Dave Jaffe and his wife rescued a terrier, although why anyone would is beyond them.
Cunning, intelligent, and fleetingly thoughtful, Budleigh, this young, very social, black-and-white, cow-eyed terrier, was proof of those old adages, "Smart as a terrier" and "Did he break the skin?"
Budleigh bonded quickly with his Giants 1 & 2 and as their first shelter dog, proved no more a challenge than if they'd both pursued medical degrees. He was more a challenge to, say, half a loaf of cornbread left on the table in a dark kitchen. But who could blame Budleigh? The streets taught him that talk is cheap, life is tough, and you don't get much cornbread.
Through essays, cartoons, and comic strips created by the author and drawn from his national award-winning blog, Sleeping between Giants, learn about the highly successful, though often confusing relationship between Canines and Giants. Great wisdom is offered by Budleigh, his older co-dog Brisby, Nature's Perfect Schnoodle, and a host…well, pack of dog park locals.
They've much to teach us. Besides the best spots to poop!



REVIEWS:


2020 Independent Book Awards – Finalist in Two Categories


Sleeping between Giants: Life, If You Could Call It That, With A Terrier, Book 1: Budleigh, the Early Year was named an Award-Winning Finalist in the Humor category AND the Animals/Pets: General category of the 2020 International Book Awards.
I'm thrilled for the Humor honor. Budleigh's delighted for the Animals/Pets recognition.
Thanks, International Book Awards!

Indies Today 2019 Best Humor Book Award Winner – Sleeping between Giants
Reviewed by Jordan Ehmann, Indies Today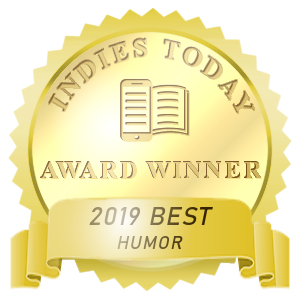 In the immortal words of Cookie and Gerry Fleck, "God Loves a Terrier." Dave Jaffe walks us through the journey of first time shelter dog adoption in this humorous collection of stories, photos, anecdotes, tips and dog park conversations.
Budleigh is a street-smart roughneck of a dog hardened by his time behind (kennel) bars. He enjoys peanut butter anything, shoes, and menacing the neighborhood with strategically chosen urination locations. His two giants (owners) may or may not be aware of Budleigh's involvement with a local crime syndicate, although fellow terrier owners will understand! Whether you're a dog person or not, you'll definitely enjoy this charming book.
The conversations in the dog park are a true highlight of this book. From retrievers that only want to retrieve and please their giants to ditzy poodles, each breed's personality really shines. The pictures, embellished though they are, add to the verity of dog ownership. And let's face it… when you have a dog for a pet, every day isn't a walk in the park!
Dave Jaffe's obvious love for animals is matched by his talent for writing. Sleeping between Giants will make you laugh out loud with the author's Seinfeldian observations on life with a terrier.

Book Review: Sleeping Between Giants
Reviewed by best-selling author Lori B. Duff, LoriDuffWrites.com
When I tell you that "Sleeping Between Giants: Life, If You Could Call It That, With a Terrier" by Dave Jaffe is a funny book, you seriously have to believe me.
I started to read it in the lobby of the auditorium while I was waiting for my son's concert to start. I had to stop reading it in public because I was making a spectacle of myself, laughing, snorting, and insisting that my husband quit doing what he was doing so that he could read the passage I was laughing at.
This is a book about Budleigh, a mutt of a terrier that Dave and his wife rescued from a shelter. Budleigh is high energy and Dave is a great storyteller, alternating between vignettes, cartoons, and made-up dialogues between Budleigh and his doggie pals.
Seriously, it's a funny book. There are a few lines and phrases that have made it into the every day private joke lexicon of my family. Things like "vibrate through walls" and "Comcast Customer Service Evil." You'll have to read the book to find out what they are. Of course, we have a mutt of a terrier in our house, Lincoln, who doesn't much look like Budleigh, but who from all descriptions should never meet Budleigh in person lest they plot and take over the world.
Here's a picture of Lincoln, laughing after reading the book. (Yes, Lincoln can read. How else could he have hacked into my Wi-Fi? Terriers are smart.)

Reader Review – BARK, LAUGH, SNORT, BARK AND LAUGH SOME MORE!
By JBKing
Dave Jaffe is hilarious and (thank you lord) a great writer with insight and obvious love for dogs. My husband is a veterinarian and we own a clinic and kennel, so we are surrounded by dogs all the time. I love the business meetings at the dog park that Dave narrates. Reading the conversations between Budleigh and his perfect dog partner in crime had me howling. (See what I did there?) Love this book so much I bought one for friends who "are owned" by a precocious Jack Russell Terrier. This is a really fun book and one that dog lovers will simply "lap up." Thank you!!